David Emil Henderson
Biography
DAVID EMIL HENDERSON began his journalism career in 1960s magazines, when he crafted personal interviews with Henry Fonda, Barbra Streisand, Robert Preston, Charlton Heston, and other luminaries, along with a range of news and features.

As editor for a Chicago suburban newspaper chain owned by Time, Inc., he directed the content of five newspapers including The Evanston Review, chosen by a national newspaper publishers' association as First in the Nation for General Excellence. Later, as editor and publisher of a Montana newspaper, he won the press association's top statewide awards for editorial writing, column writing, feature stories, and news reports.

In California, Henderson created national print and video marketing programs for nine San Francisco Bay Area daily newspapers, including those owned by Gannett, The Tribune Company, Media News Group, and The New York Times.

Since becoming involved with the Pine Tree Press, he has sought to assist other talented writers in launching their books. A nonfiction "anthology of heroes" by Larry T. Bailey is on deck, entitled "So Brave...So Quiet...So Long!"
Books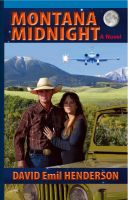 Montana Midnight
Against a background of national unrest, "Montana Midnight" paints a tense and often humorous portrait of a town caught in a fiery clash between environmental militants and corporate kingpins. Jackpine is the kind of town where every character knows everyone else. And Nathan Chambers is a young veteran with an expectant wife. Naturally, he gets the job of keeping the peace —a very dangerous job.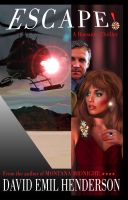 Escape!
Imagine a sophisticated "Bonnie and Clyde" racing "North by Northwest" to escape rogue lawmen who want them "Dead On Arrival." Only, "Bonnie" is gorgeous Elissa Bennett Pope, a divorcée who threw away a fortune; "Clyde" is F. Graham Harper, an architect accused of murder; and the direction is due west from Lake Forest, IL to Carmel, CA, where their desperate escape comes to a cliff-top climax.
David Emil Henderson's tag cloud