Dennis Brooks
Biography
As someone inspired by the mystery of Atlantis, I have been researching the topic since my youth. Now, evidence from a rare book and the 2011 earthquake and tsunami that devastated Japan provide evidence that supports the notion that the boundless continent Plato wrote about really was the Americas.
In short, Atlantis did not sink but is still standing as part of the landmass known as the Americas. To demonstrate this, this book will:
* Dissect the story of Atlantis as written by Plato and translated by Benjamin Jowett.
* Analyze Plato's work while aligning Atlantis with the Americas and recognizing errors in his narrative.
* Locate the continent of Atlantis, the island of Atlantis, the city of Atlantis, and the plain of Atlantis according to Plato's descriptions.
* Discuss the cause of the destruction of Atlantis and where the Atlantean people went after the destruction.
* Show how the Native American Hebrew people fit in with Atlantis, and where they lived.
Identify three main temples of Atlantis
Present excerpts from other writings about Atlantis before Plato's time to demonstrate that Plato did not invent the story.
Moreover, as part of my research, I discovered the "Lost Tribes" theory—the claim of early writers and historians that all American Indian tribes have customs and traditions related to Jewish religion and beliefs. My belief is that as we solve the mystery of Atlantis, we also solve the mystery of the Hebrews in the Americas.
It's a fascinating story.
Books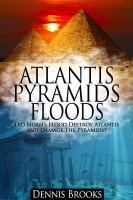 Atlantis Pyramids Floods
Did Noah's Flood Destroy Atlantis and Damage the Pyramids? There is now visual evidence that water from Noah's Flood damaged the Great Pyramid and other structures on the Giza Plateau. Khafre, the tallest pyramid was damaged by the flood except its top. A cap was left on the top of this pyramid that now acts as the high-water mark for Noah's Great Flood. Other evidence date the flood to 11600 BCE.
Dennis Brooks's tag cloud