D. Grant Haynes
Biography
I am a retired teacher and writer, having taught journalism, photography, and English at both the college and the secondary levels in various areas of the United States.

My degrees (ABJ and MA) are from the University of Georgia's Grady College of Journalism and Mass Communication.

I live simply and frugally in a rural area of the Pacific Northwest, observing sunrises and sunsets, feeding small wild creatures, and avoiding as much as possible all that is 21st Century America.
Where to find D. Grant Haynes online
Books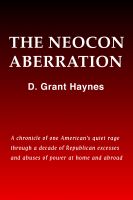 The Neocon Aberration
This work is a compilation of editorial statements produced by the author during the decade of 1997-2007. Those years began with the persecution of Bill Clinton in the so-called Monicagate affair, but were dominated by the much graver ascension of a group of criminally inclined Republicans to the White House after the presidential election of 2000. I discuss these and related matters in my book.