Diane Davis White
Biography
Diane is a historical and contemporary author whose credits include first place awards for Historical Westerns with Native American themes and Regency manuscripts. She resides in Oklahoma where the wind comes racing down the plain, thus her love of Native American Lore. Diane has two stories in No Law Against Love: Sadie the Shady Angel and In A Pickle in Connecticut, Angels in the Moonlight in Blue Moon Magic, Maggie at Christmas in Holiday in the Heart, and The Man Has a Sweet Tooth in Recipe for Love. Moon of the Falling Leaves is now available.
Where to find Diane Davis White online
Where to buy in print
Books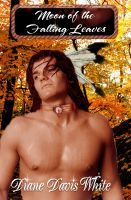 Moon of the Falling Leaves
Alone in the Wilderness… Jessica Maxwell finds out how uncertain life can be when she and her children are stranded on a mountain with winter looming. The Lakota Warrior… Swift Eagle has discovered his destiny in the flames of a vision that leads him to help this white family. Compassion Becomes Passion… Duty becomes desire when they are forced to fight for their love.