Dick Mills
Biography
Dick Mills ran from the call of God and the ministry as a young man. While in the military during WWII, he surrendered to the will of God for his life and went to LIFE Bible College and graduated with a degree in Theology. In 1949 he was ordained by the International Church of the Foursquare Gospel, and traveled as an evangelist all his life. He authored five books and contributed the "Word Wealth" New Testament portion of the "Spirit-Filled Believer's Bible," published by Thomas Nelson Publishers. He passed through all denominational barriers and ministered to millions of people. He was a regular guest on the 700 Club with Pat Robertson and other TV and radio broadcasts. In his meetings he made The Word come alive by personalizing Scriptures to individual people. Dick went home to the Lord in April 2012, but his ministry and legacy live on through his ministry organization, Dick Mills Ministries, and his son David, and grandsons' Judah and Blake.
Where to find Dick Mills online
Where to buy in print
Books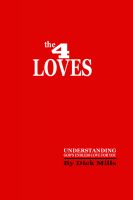 The 4 Loves
(5.00)
God loves you with an agape love. He loves you as if there were no one else to love in the entire world. He doesn't love you because you are somebody; He loves you so that you can become the object of His love. As you read this book, you will come to understand what real love is and what human love is. You will learn that God's love is the highest love available and that it is truly endless.