Adam and Richard Swenson
Biography
Adam Swenson has been involved in writing fulltime for ten years as a feature writer, magazine editor, book co-author and editor, and founder of Swike Creative. He is a 1998 graduate of Bethel University with degrees in philosophy and theology. He has traveled widely, flying small planes in the Amazon, skinning a bear and picking salmon nets in the Alaskan bush, photographing community development in Nigeria, helping to build a maternal-child health clinic in Zambia, reading Sartre at the Left Bank's Café Les Deux Magots, jogging up the serpentine path to Masada, and working on this novel 400 miles north of the Arctic Circle along the shores of a Norwegian fjord. He lives in Roseville, Minnesota with his wife and daughter. Richard Swenson holds degrees in medicine and physics and is a futurist, physician-researcher, educator, and the author of eight books. He has presented to a wide variety of professional, medical, educational, and management groups, most major church denominations and organizations, members of the United Nations, of Congress, of NASA, and of the Pentagon. He was an invited guest participant for the 44th Annual National Security Seminar. In 2003, he was awarded Educator of the Year by Christian Medical and Dental Associations. He and his wife make their home in Menomonie, Wisconsin.
Where to find Adam and Richard Swenson online
Where to buy in print
Books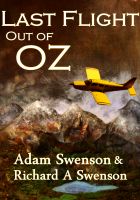 Last Flight Out of Oz
(5.00)
The mysterious disappearance of an mercurial visionary shakes the community. Has Weissman gone bad? Two brilliant students join forces in a high-stakes mountain chase, battling danger, vengeance, and each other to rescue their beloved mentor, now suspected of terrorism.