R.V. Doon
Biography
R.V. Doon is a bookie! Seriously, she's an avid reader who also loves to write. After many years of hospital nursing, she took the plunge and now writes full time. She writes across genres from cozy mystery to dark fantasy.

R.V. currently lives in Mobile, Alabama, a haunted and historical city, with her husband and two dogs who take the scary out of her world. She would love to hear from you at her blog, rvdoon.com, or find her on Google +.
Where to find R.V. Doon online
Books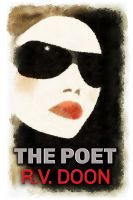 The Poet
The Poet is a dramatic short story of 4,760 words. The piece features three, original romantic poems titled: Lip Signals, The Kiss Necklace, and Saint Love for your reading enjoyment. If you like a little poetry mixed with conflict, The Poet is tailor made for you. At the core of the story rests an undiscovered secret. To say more would ruin the ending.