Joseph Williams
Biography
Joseph Williams, Ph.D., is known as a common sense thinker with the ability to see patterns in human behavior. He is distinctly qualified to write about these patterns through his education, successful careers in both business and academia, and a recent seven-year stint as a blue collar union member of the International Association of Machinists and Aerospace Workers (AFL-CIO Affiliated). As a respected author, his organizational behavior research received global attention when it was published in Management Research News, read by more than 15 million readers worldwide. Dr. Williams wrote Who Do You See in the Mirror? to make this important research available to the general public. He takes an accessible, inspiring look at ways to be part of a shift toward responsible behavior in the workplace, with the ultimate goal of giving people an opportunity to be part of a more positive global future. He developed the Human CABLE System - a concept to change irresponsible behavior into responsible behavior to enhance both personal well being and organizational success. Dr. Williams holds a B.S. degree in chemistry, a M.B.A. degree in Organizational Behavior, and a Ph.D. degree in Applied Management and Decision Science.
Where to find Joseph Williams online
Books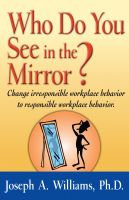 Who Do You See in the Mirror?
By
Joseph Williams
Price:
$5.99 USD.
Words: 43,560. Language: English. Published: October 28, 2010. Category: Nonfiction
(4.95 from 85 reviews)
The central theme of Who Do You See in the Mirror? is the trend toward irresponsible behavior in the workplace and what can be done to reverse it. All organizations need responsible members, on every rung of the ladder, to ensure success. The author's innovative Human CABLE System™ (HCS) is a model for changing irresponsible behavior into responsible behavior.
Joseph Williams's tag cloud