Dr. Saul Shaye
Biography
Author and Long-Distance Healer of People and Animals

America 's Healer Dr. Saul Shaye is an all-together uniquely gifted individual. He has lectured over 500 times in the USA and in 7 foreign countries. He has treated thousands worldwide in addition to numerous pro-athletes, their coaches, and families. There are hundreds of healing miracles documented to date as a result of Dr. Shaye's healing gift, and he always gives the glory to God. Half of the healings Dr. Shaye has performed has been over the phone, as distance doesn't matter. He has done long-distance healing sessions as far away as Thailand.

After surviving a near fatal motorcycle accident at age 20, Dr. Saul Shaye's life took an abrupt turn. He left his home in Brooklyn , New York , and moved to Monroe , Louisiana , where he earned his undergraduate degree and worked on his Masters in vertebrate zoology at Northeast Louisiana University.

In 1973, while Dr. Shaye was working on his doctorate in chiropractic in Iowa , he attended a workshop on psychic diagnosis, intent on disproving the technique. After attending the workshop, Dr. Shaye found to his surprise that he, too, could read and diagnose by sensing energy fields. This led him to read the Edgar Cayce Book, "There Is A River," at which time he became convinced of the existence of spirit. Spiritual matters then became the most important part of his life and his knowledge of reading energy fields has grown with the years. In 1980, through dreams and inner guidance, he discovered that he was a conduit for Spirit to work through, sending healing without physical contact. He has learned from spiritual sensitives that he is channeling a form of spiritual energy which is seen by some psychics as a golden light flowing from his hands and surrounding the patient's body during diagnosis and treatment. The energy affects the etheric body, which transforms and heals the physical body. He has been able to send healing to help people and animals with a host of different symptoms and ailments.

Dreams have also played a major part in the unfolding of Dr. Shaye's spiritual abilities. He has recorded over 16,000 of his dreams since 1975. Dreams have shown him how to manipulate energy fields in several different ways, with each new step appearing when he was ready to receive it.

Dr. Saul Shaye has written articles on healing, health, and dreams and has been an avid sports participant in track, weight lifting, body building and karate. He is a popular keynote speaker. Over 45,000 paper copies of Dr. Shaye's "The Little Book of Miracles" have been distributed worldwide.

Cover Art by Elan Sunstar Hawaii
Where to find Dr. Saul Shaye online
Books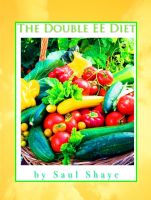 The Double EE Diet
(5.00)
The Double EE Diet by Dr. Saul Shaye Copyright 2012 is a short and simple guide to eating for health and feeling better faster. The Double EE Diet delivers optimal solutions for healthy food combining that result in strong digestion and easy elimination, the keys to good health. This informal discussion is not for those who "live to eat" but for those who want vibrant health and energy now.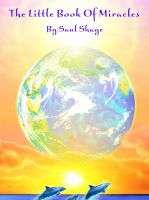 The Little Book of Miracles
(5.00)
Long-distance healer Dr. Saul Shaye wrote The Little Book of Miracles, a collection of testimonies from people who have experienced dramatic healings as a result of Shaye's God-given gift of healing. Dr. Shaye is well-known for his long-distance healings of people and animals via the phone. Shaye believes that God is unlimited and can heal anything, as these testimonies support.