Echo Romeo
Biography
Echo Romeo is a completely fictional character.

He is omnipresent and never present. He has never been nor does he plan on ever getting married. He may or may not have fathered many children. He may even be one of your children. I guess he couldn't be because he was never born, so he will never die.

Echo Romeo is ageless and timeless.

Echo Romeo is forever.

Echo Romeo is a pseudonym, an alias, a nom de plume because writing is dangerous. There are people's feelings, situations, reputations and/or opinions to step on.

Names have been changed and events dramatized to protect the innocent.
Books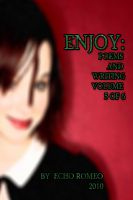 Enjoy
Enjoy is the fifth volume in a series of six of poems and writings by Echo Romeo. This finds the author quietly living and dying (of boredom). What's a rehabilitated sex addict and international fugitive to do with his life? Sit back and enjoy life for a while until he plans his next move.