Everett Robert
Biography
Everett Robert is a life long resident of Kansas, actor, and writer. He holds degrees in Communications and English from Colby Community College. His play, ALLIE IN WONDERLAND, was recently published by Heartland Plays, Inc.
Where to find Everett Robert online
Books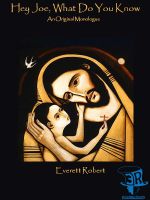 Hey Joe, What Do You Know
A short original Christmas monologue about Joseph, the earthly father of Jesus. This 2-3 minute monologue is perfect for religious Christmas programs. Please do not perform without giving proper credit to the author. Please inform the author if used and think about blessing the author for his work and for royalties.
Everett Robert's tag cloud