Eric Henn
Biography
Eric Hen is a lifelong fan of fantasy and science fiction, and hopes to make a name for himself in the genres. In addition to his writing projects,he keeps busy performing with the Hudson River Playback Theater, and taking whatever other acting gigs come his way. When he is not performing, Eric can be found fencing, practicing karate, playing on his computer or PS3, LARPing and tabletop RPing, and once in a great while playing a game of Magic the Gathering or Yu-Gi-Oh! He graduated from SUNY New Paltz with a BA in English and a BA in Theater Arts, and currently lives in the scenic Hudson Valley. His novel They're Watching Over You came out in April. He has a blog at http://erichenn.blogspot.com.
Where to find Eric Henn online
Books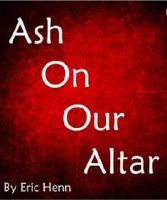 Ashes on Our Altar
Ash on Our Altar is a day in the life of the Swanson family: Ryan, the hardworking father; Debbie, the loving mother; and their overly imaginative son, Petey. Together, the Swansons try to scrape out a living in the ruins of New York City after catastrophic climate change turns the Earth into a desert.
Eric Henn's tag cloud