Eileen Wiedbrauk
Biography
Eileen Wiedbrauk is a writer, teacher, editor, and coffee addict. Her short work has appeared in North American Review, Enchanted Conversation, SWINK, Northville Review and others. She her blog, "Speak Coffee to Me," can be found at www.eileenwiedbrauk.com.
Where to find Eileen Wiedbrauk online
Books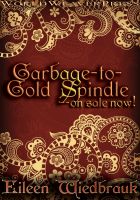 Garbage-to-Gold Spindle--On Sale Now!
A witty reimagining of the classic Rumpelstiltskin tale. "Garbage-to-Gold Spindle–On Sale Now!" opens with a page from Granny Gopper's Cosmic Catalog of Everything You Ever Wanted!, a mail-order company selling mystic and magical wares to denizens of the enchanted forest, and unfolds as only could be told through business correspondence from the mail-order company to one Mr. Stiltskin.
Eileen Wiedbrauk's tag cloud