Eugene Shafir
Biography
Born in Melbourne to Holocaust survivors, Eugene Shafir is a food critic and a new media player. Culturally straddling Old World traditions and the hedonistic freedoms of the New World, Eugene grew up confused, anxious and chubby. His dominating mother instilled in him the drive to prove himself, though his innate laziness meant that he wouldn't drive too fast. As a teenager in the 1970s, trying to embrace the hippy lifestyle, he began asking life's Big Questions. As an adult, when he'd lost all ambition and given up on the Big Answers, his life-long love of food and constant criticism of his table manners led him to become a restaurant reviewer. However, frustrated with eating establishments turning the tables on him and reviewing him instead, Eugene recently put his cheesecake where his mouth is and opened a café of his own in an extremely cool part of Melbourne.
Harvey Shmidlap Seeks the Perfect Cheesecake is his life's work, such as it is. His life, that is, not the novel. The novel is brilliant.
Where to find Eugene Shafir online
Books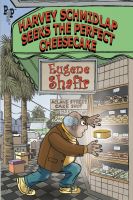 Harvey Shmidlap Seeks the Perfect Cheesecake
Distilled from Polish peasant stock Harvey Shmidlap is only destined for greatness in terms of his belt size. But he has a half baked plan to achieve fame. When the Eponymous Food Association, the international body for naming foods, tastes his mother's cheesecake, the name Shmidlap will live forever on people's lips! Harvey's hilarious quest to get the recipe from his mother is a delicious tale.