Zachary Knight
Biography
E. Zachary Knight is a web developer, gamer, game developer and writer. He was the Chapter President of the Oklahoma City Chapter of the Entertainment Consumers Association for several years. He currently writes for Techdirt.com and is developing games under the Divine Knight Gaming brand.
Where to find Zachary Knight online
Books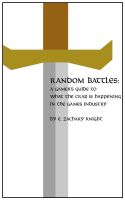 Random Battles: A Gamer's Guide to What the Crap is Happening in the Games Industry
Random Battles details many issues in the games industry that effect both gamers and the games industry. A number of these gamers have the ability to directly effect what direction the games industry moves. Gamers have that power and they can wield it wisely.
Zachary Knight's favorite authors on Smashwords