Howard Steven Friedman
Biography
HOWARD STEVEN FRIEDMAN (New York, NY) is a leading statistician and health economist at a major international organization. Friedman is also an adjunct professor at Columbia University's School of International and Public Affairs, and he formerly directed data analysis teams in the corporate world. He is the author of The Measure of a Nation: How to Regain America's Competitive Edge and Boost Our Global Standing (Prometheus Books, 2012) as well as more than thirty-five scientific articles and book chapters in areas of applied statistics and health economics.
Where to find Howard Steven Friedman online
Books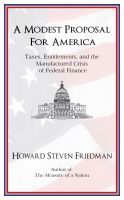 A Modest Proposal for America: Taxes, Entitlements, and the Manufactured Crisis of Federal Finance
Friedman brings Swift's classic into the 21st century via America's current concerns about the economy, sustainability of social programs, the environment, class warfare, and inequality. This new Modest Proposal offers a shocking satirical solution before unpacking the data to explain the real causes of America's current financial struggle and presenting the practical solutions D.C. is avoiding.
Howard Steven Friedman's tag cloud