Fred H. Holmes
Biography
Fred lives in Puriscal, Costa Rica with his wife, Mary. They are permanent six year residents of this beautiful country and Fred spends his time writing, hiking, playing bridge, reading,and enjoying retirement. Although born in western New York, Fred spent most of his life in Texas and calls Dallas his USA home.
Where to find Fred H. Holmes online
Books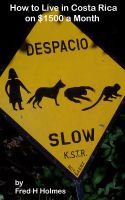 How to Live in Costa Rica on $1500 a Month
(5.00)
This ebook's primary focus is to give the reader information on how to live in Costa Rica on a budget, although other topics are also covered which will be of invaluable use to someone considering moving to this Central American paradise.
Smashwords book reviews by Fred H. Holmes
How I Sold 1 Million eBooks in 5 Months on Aug. 08, 2011

I have unsuccessfully published an e-book in the past and have another nearly ready for publication. This time though,I am going to try some of the methods from John Locke's book. I was, of course, stunned by his sales figures, but more importantly I was impressed with his many pronged approach to marketing his book. If I get five percent of his sales I will be happy. Fred Holmes