F.L. Carey
Biography
I am a federal civil service retired annuitant and have many years as a legal assistant. I currently have two children, five grandsons and two great grandsons (twins) and a third great grandson due in July. I have been a born again Christian for approximately 40 years. I wanted to do something that would hopefully reach many more people that I could do personally in order to show them the way to eternal life in heaven. My greatest wish is to help as many people as possible to escape the horrible torment of hell. I felt I could do this better by setting out what I have learned over the years in the written word. I hope that it will be received in the way it is given which is to try to hep as many as possible to escape an eternity of torment.
Where to find F.L. Carey online
Books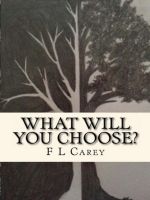 What Will You Choose?
(5.00)
Our lives are all about choices we make for ourselves every day. Those choices shape the outcome of our lives. There is one choice that we must make that has eternal consequences. I want to explain those consequences and show you how easy it is to make the informed choice. It will cost you only a little time and some heartfelt introspection. It is a quick read that will change your life
F.L. Carey's tag cloud