Francois de Brantes
Biography
As Executive Director of HCI3, Mr. de Brantes is responsible for setting and implementing the strategy of the organization. This includes supervising the implementations of Bridges To Excellence and PROMETHEUS Payment pilots, leading the development of new programs, and designing incentive efforts for employers, health plans and provider organizations.

Previously, Mr. de Brantes was the Program Leader for various healthcare initiatives at GE Corporate Health Care Programs, responsible for developing the conceptual framework and the implementation of GE's Active Consumer strategy.

Mr. de Brantes attended the University of Paris IX - Dauphine where he earned a MS in Economics and Finance. After completing his military service as a platoon leader in a Light Cavalry Regiment, he attended the Tuck School of Business Administration at Dartmouth College, where he graduated with an MBA.
Where to find Francois de Brantes online
Books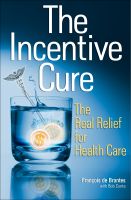 The Incentive Cure
Health care in the US needs a cure, and this book provides one that can be implemented today and tomorrow. It's all about fixing the incentives that currently encourage doctors, nurses, hospitals and others to be bad instead of being what they want to be -- good. It's a call to action for a new national project: delivering an effective and lasting cure to the American health care system.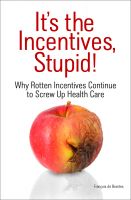 It's The Incentives, Stupid!
Healthcare is plagued by many things, but none is worse than the incentives that drive physician, hospital and patient behaviors. This book is a compilation of 18 months of reflections on those incentives and offers some solutions to the problems at hand.