Garth Wright
Biography
Garth Wright has over 25 years of experience conducting workshops and giving keynote speeches as a Christian inspirational speaker and motivational trainer. He has spoken in over 65 countries around the world including the U.S., Europe, Russia and Asia to a combined audience of over 100,000 people.

In addition to his work as a professional speaker, Garth and his wife Anna go to various countries with teams to support Christian ministries that help orphan and handicapped children and the poor.
Where to find Garth Wright online
Books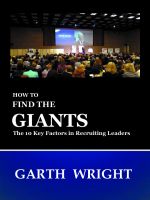 How To Find The Giants
To develop a huge walk-away income and go to the very top level of your marketing business, the most important skill you can develop is knowing how to find the potential GIANTS and recruit them into your organization. This book is filled with true-life success stories, recruiting techniques and photos from Garth Wright's 20 years at the very top level in the industry around the world.