Gary Earl Ross
Biography
Novelist, playwright, public radio essayist, and popular culture scholar, Gary Earl Ross is a language arts professor at the University at Buffalo Educational Opportunity Center. Named Erie County's 2003 Artist of the Year, Ross has won numerous awards for writing and teaching, including a LIFT Fellowship for his fiction, an Emanuel Fried Outstanding New Play Award for his courtroom thriller Matter of Intent, an Excellence Award from United University Professions and State University of New York, and for his public radio essays first place commentary awards from the New York Associated Press and the New York Broadcasters' Association. In 2008 readers of the alternative newsweekly Artvoice voted him the Best Writer in Buffalo.
Where to find Gary Earl Ross online
Books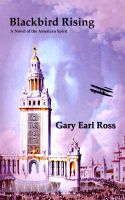 Blackbird Rising: A Novel of the American Spirit
At the dawn of the 20th Century, the first city lit by electricity-Buffalo, New York-hosts a dazzling World's Fair. Unknown to organizers, the bold grandsons of a runaway slave plan to conquer the sky during a fateful presidential visit. They intend to show the world that nothing is more powerful than mankind's oldest dreams-flight and freedom.
Gary Earl Ross's tag cloud