Gemma Martinelli
Biography
Gemma was born in England in 1978, and is English with a certain Italian heritage and influence. She is an incredibly passionate and honest woman, whose day-to-day interests are historical research and environmental politics.

With regard to her personal life, Gemma openly admits that she struggles (and, as a result, has sought professional help) to control her deeper desires; inclinations that, once having aroused her and overcome her, have become sentient and real. In this way, and no doubt to the envy of some, she has lived out many of her fantasies, often with no regard for the consequences, and with little awareness of their influence and perception outside of her hedonism.

Gemma is currently healthy and happy, and lives with her partner in the south of England.
Books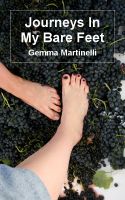 Journeys In My Bare Feet
"This is a story about growing into womanhood, of following where my feet (and, eventually, other parts of my body) have led me - and it's about my sexuality." As of November 2012, I am now making this book available for free. If there is enough interest in it, and sufficient positive feedback, then I will write another work.
Gemma Martinelli's tag cloud