George Burney
Biography
George Burney CLU, ChFC, CPCU, recently retired from the insurance industry. He has had over 40 years of public speaking experience.

He says, "The ability to speak well when before an audience is a skill almost anyone can acquire. Like many other endeavors perceived as being difficult, public speaking is really very simple when the fundamentals are understood and applied.
"I'd like to help dispel the notion that public speaking is only for the gifted, for those born with the gift of gab. Not so. I'm writing for the person who is not quite sure he can do this, but wants to. You can. I'll help you."
Where to find George Burney online
Books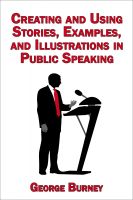 Creating and Using Stories, Examples, and Illustrations in Public Speaking
"A picture is worth a thousand words." Illustrations, stories, and examples are word pictures. They're the cornerstone of excellent public speaking and the greatest orators in history all used them. Learn to use them to paint vivid, colorful images in the minds of your listeners. The result? Your speeches will become much more pleasing, powerful and persuasive than if you merely used words alone.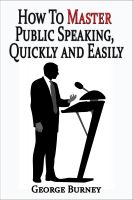 How To Master Public Speaking, Quickly and Easily
Would you like to discover 11 proven ways to quickly develop confidence and forever shatter your fear of public speaking? Are you looking for a simple, easy way to prepare and give great speeches? A way that does not tire you out with endless rehearsing? If so, this book was designed for you. It will teach you how to prepare, rehearse, and confidently give excellent speeches--quickly and easily!