Gerlad W. Grumet MD
Biography
Gerald W. Grumet, M.D. is a psychiatrist in Rochester, NY who found himself increasingly ensnarled in paperwork as the era of Managed Care began to take hold in the 1980s. Minor bookkeeping chores which had previously taken minutes began to consume hours. While most physicians use professional billing clerks to interact with health insurers, Grumet put himself on the front lines, doing his own clerical chores in search for answers. His research led him to conclude that the central problem of bureaucracy is the rigid or obsessional personalities that form the functional core of advanced societies.
Books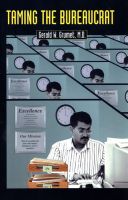 Taming the Bureaucrat
"Taming the Bureaucrat" begins with one physician's curiosity about the increasing bureaucratization of medicine and concludes that bureaucratic systems cast a wide shadow over virtually all aspects of modern society - the legal system, government agencies, religious bodies, financial institutions, military organizations, etc.