Doug Dziama
Biography
Doug Dziama is a graduate of Bowling Green State University with a Bachelor's Degree in broadcast and written journalism. His stories have appeared in "Over the Back Fence" and "Paranormal Pennsylvania & Beyond" Magazines. He is semi-retired from D.D. Reckner Food Brokers, where is employed as an Operator Consultant specializing in School Foodservice.
Doug and his wife Karlene have been married for 38 years and reside in Lorain, Ohio. They have two daughters, Susan from Santa Clarita, California, and Jennifer who resides in Plymouth Michigan and is co-author of "Ghosts of the North Coast." They are blessed with three grandchildren, Sahana, from Santa Clarita, and Charlie and Megan from Plymouth. In his spare time, Doug enjoys travelling, reading, listening to music, the backyard pool, and, of course, writing.
Where to buy in print
Books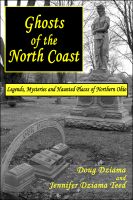 Ghosts of the North Coast: Legends, Mysteries and Haunted Places of Northern Ohio
From Lake Erie monsters to cursed Carousel horses to haunted wineries, Doug Dziama and Jennifer Dziama Teed explore some of the mysteries, legends and ghost tales of Northern Ohio. They delve into exorcisms, research a haunted fort which is also a massive burial ground, and discover the truth behind the infamous urban legend of Gore Orphanage.