Dave & Sharon Oester
Publisher info
Dr. Dave Oester, DD., PhD., Reiki Master and Dr. Sharon Oester, PhD, Reiki Master, are both ordain and licensed metaphysical ministers and the cofounders of one of the oldest and largest Internet based ghost research organization, the International Ghost Hunters Society. They traveled full time in their RV coach for twelve years before settling down at their Coyote Moon Ranch in the mountains of Northern Arizona. During those twelve years, they traveled across the United States visiting America's most haunted sites. Their web site, www.ghostweb.com houses the largest collection of free ghost photographs on the Internet. They have recorded over 5,200 ghost voices during their 1,500 plus field investigations from sites in North and Central America and have over 1,000 recordings of ghost voices posted on their web site. They are the coauthors of twenty-nine books. Visit them at www.ghostweb.com or drop them an email at ghostweb@ghostweb.com.
Where to find Dave & Sharon Oester online
Where to buy in print
Books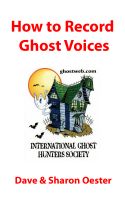 How to Record Ghost Voices
This is the beginners guide to learn how to record ghost voices. This eBook was the course material for the past decade for becoming certified as an EVP researcher by the International Ghost Hunters Society. This eBook contains the secrets of how to record and analyze ghost voices known as EVP.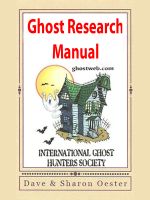 Ghost Research Manual
Learn the ABC's of ghost hunting from two Master Ghost Hunters who cofounded the largest Internet ghost hunting group, the International Ghost Hunters Society. This is their trainning manual for beginners who want to become ghost hunters. The reader can become certified upon completion of this manual.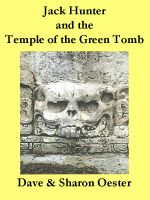 Nate Hunter and the Temple of the Green Tomb
Archeologist and treasure hunter, Nathan Hunter, becomes obsessed when he called to action after discovering a relic revealing a clue to finding the legendary lost treasure of the Aztec empire hidden five hundred years ago when Spanish Conquistadors ransacked the land.