Giuseppe Meligrana
Biography
Giuseppe Meligrana è nato a Tropea nel 1982. Dopo gli studi classici presso il liceo "P. Galluppi" di Tropea, nel 2000 si è iscritto alla facoltà di Scienze Politiche dell'Università di Bologna conseguendo nel 2004 la laurea nell'indirizzo storico-politico, con la specializzazione in "Diritti umani ed intervento umanitario". Dopo diverse esperienze lavorative nel campo editoriale e non, nel novembre 2005 compie un corso editoriale presso la casa editrice Minimum Fax a Roma. Nel febbraio 2006 fonda a Tropea insieme ad Alessandro Colace (che oggi non collabora più con l'editore) la Meligrana Giuseppe editore (inizialmente detta MELCOL dalle iniziale dei due editori). Oggi è il proprietario nonchè il responsabile unico della M.G.E. Ha gia pubblicato: "Woodrow Wilson alla Conferenza di Parigi" (2006), "Le antiche ricette di Tropea e dintorni" (Ia 2006 - IIa 2008), "Impariamo l'italiano a Tropea" (2007), "Antike Rezepte aus Tropea und Umgebung" (2007) e "Traditional recipes from Tropea and nearby" (2008). Vive e lavora a Tropea.
Where to find Giuseppe Meligrana online
Books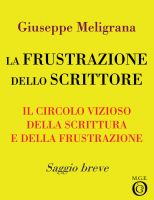 La frustrazione dello scrittore
Chi è, in generale, uno scrittore? Chi può essere effettivamente definito tale? Quale caratteristica deve avere l'uomo-scrittore per essere valevole in ciò che fa? Che nesso esiste tra la frustrazione e la scrittura? E cos'è questa frustrazione? E, infine, cosa realmente la scrittura? In questa breve trattazione cercheremo di rispondere a queste domande.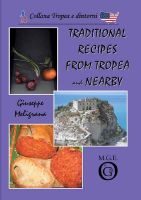 Traditional recipes from Tropea and nearby
In the age of aggressive and persuasive food globalization, all over the world one can see the slow but inexorable decline of local traditional food whilst uniform global cookery takes its place as a direct result of the globalizing tendencies. This book aims at show the English speaking people that our cuisine is high in quality, it is unadulterated and it guarantees a long healthy life.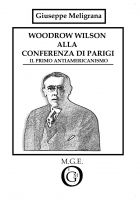 Woodrow Wilson alla Conferenza di Parigi
Lo scopo di questo libro è quello di affrontare e analizzare il comportamento di Woodrow Wilson, ventottesimo presidente degli Stati Uniti d'America, durante la Conferenza di Parigi del 1919, che ha posto formalmente fine alla Prima Guerra mondiale.
Giuseppe Meligrana's tag cloud