Glenn Blackshear
Biography
Glenn Blackshear is a 30+ year veteran of the Computer Science industry, with a B.S. in Information Systems from the University of Texas and a PhD from the proverbial School of Hard Knocks. In the early 2000s, he lost a lifetime of work, including multiple unpublished novels and dozens of short stories, songs, and poems, having placed too much faith in technology. Wounds healed. scars faded, and lessons learned, now he is compelled to write or die trying.
Where to find Glenn Blackshear online
Books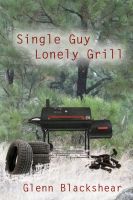 Single Guy, Lonely Grill
(4.00)
In this short personification, a grill born with a defect struggles to find purpose and fulfillment in life.
In Memory - a Short Story
(5.00)
A naturopathic doctor develops an herbal memory-enhancement formulation for his Alzheimer's patients that gives him more than he expected. He soon learns that an inability to forget can be far worse than an inability to remember.
Glenn Blackshear's favorite authors on Smashwords