Glen Quarry
Biography
I am a fantasy writer from a tiny town in the midwest. An avid reader myself, I have a love for fantasy fiction, and it is in this genre that I've chosen to write. I work as a press operator in the printing industry.

My small hometown is set in some of the most fertile farm ground of the heartland, not unlike the hamlets and towns of Elisinor, which is the fairy-tale land that I've striven to bring to life. The towns in the story are filled with peasant folk, hard-working and fun-loving, who are much like the good farmers that are my day to day neighbors in real life.

My hobbies include bicycling and wood working. I love to spend time in my woodshop, constructing furniture or crafts for my home.
Where to find Glen Quarry online
Books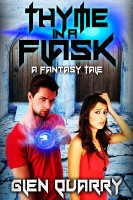 Thyme in a Flask, a Fantasy Tale
riddles and secrets and dangers abound in this book, a tale of two teens destined to have an important and lasting influence of their world.