Saundra Schimmelpfennig
Biography
With over twenty years experience in the non-profit world, Saundra Schimmelpfennig is intimately familiar with all sides of charity. Over the years she has experienced it from almost every perspective. Saundra has been a volunteer for local projects, staff at several non-profits, and a member of non-profit governing boards. She has worked in government offices both locally and abroad and has sat on government steering committees. Saundra has been part of the in-country senior management team for an international nonprofit, founded an international nonprofit, and tracked the work of hundreds of nonprofits. She has overseen nonprofit research projects, evaluated assistance programs, and taken part in national and multi-national efforts to improve aid and development. Saundra has been an individual donor, a disaster survivor, and an aid recipient.

This experience has given Saundra a holistic view of nonprofit work. She has learned from experience that Good Intentions are Not Enough. Saundra is passionate about improving the quality of assistance and believes that the best way to improve aid is to educate individual donors.
Where to find Saundra Schimmelpfennig online
Books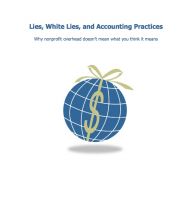 Lies, White Lies, and Accounting Practices; Why nonprofit overhead doesn't mean what you think it means
Before giving to charity, do you check to see how much is spent on overhead? Most people believe that the more a noonprofit spends on overheads the less effective they are. Unfortunately, this is a myth. Nonprofit ovehead rates have more to do with accounting practices than anything else. In just 20 pages this book breaks through all the myths and will forever change how you evaluate nonprofits.