David Pedersen
Biography
David J. Pedersen is a native of Racine, WI who resides in his home town Kansas City, MO. He received a Bachelor of Arts degree in Philosophy from the University of Wisconsin – Madison. He has worked in sales, management, retail, video and film production, and IT. David has run 2 marathons, climbed several 14,000 foot mountains and marched in Thee University of Wisconsin Marching Band. He is a geek and a fanboy that enjoys carousing, picking on his wife and teenage kids, playing WoW, and slowly muddling through his next novel.
Where to find David Pedersen online
Where to buy in print
Books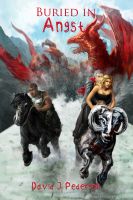 Buried in Angst
A war between the Elements is coming but it's hard to fight back when Angst is dying, the removal of his bond to the great sword Chryslaenor slowly killing him. His friends join him on another quest, but where do they start? Rose is missing, Angst has upset the Elements of Ehrde, and Chryslaenor has been stolen. Join Angst and his friends as they continue... A Midlife Crisis in Medieval Times.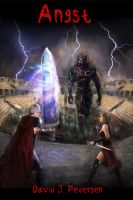 Angst
(5.00)
When Angst turned 40 he knew it was over. Not only is 40 far too old to become a knight, Angst is one of the few able to wield magic, which is mostly illegal. Without warning, Unsel is besieged with dangerous monsters and turns to Angst for help. He is happy to listen once his back stops hurting. On the edge of a mid-life crisis Angst drags his reluctant friends on an adventure to save Unsel.