Grant Stone
Biography
Grant Stone's fiction has appeared in Shimmer , Andromeda Spaceways Inflight Magazine and Semaphore and is forthcoming in Strange Horizons and The Thackery T. Lambshead Cabinet of Curiosities.

When not writing, he has been known to tinker in the engine room of the StarShipSofa and his fanzine, b0t

He lives in Auckland, New Zealand even though most of the opium and gambling dens are long gone.
Where to find Grant Stone online
Books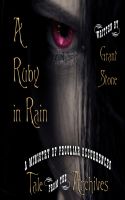 A Ruby in Rain
Agents King and Ferguson are called to interview a recent arrival to Auckland's prisons. An infamous gambler has turned himself in, not for the safety of society but for his own. The Ministry steps in to uncover a man's story of impressive luck, and more incredible vision. Tales from the Archives are short stories set in the world of the Ministry of Peculiar Occurrences.