Gray Scott
Biography
Gray Scott is an educator with nearly a decade's experience teaching science writing, business communications, composition, and rhetoric at Southern California universities and colleges. A former newspaper reporter and editor with a journalistic focus on business and technology, Dr. Scott now writes mostly for audiences of teachers and writers, contributing to an array of textbooks and student-oriented Web sites. He is the creator and editor-in-chief of Pocket Writing Tutor.
Where to find Gray Scott online
Books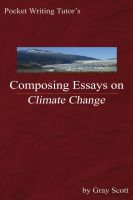 Pocket Writing Tutor's Composing Essays on Climate Change
Our guide offers student writers specific advice for essays on climate change and global warming. The book includes topic ideas; sample outlines; profiles of good sources with tips and links to help you find them; and pre-formatted citations for each source in MLA, APA, and Chicago style.
Gray Scott's tag cloud