Greg X. Graves
Biography
Greg X Graves is a young, angry man who is full of ideas. He's a rebel, baby. You can't take him home to Mom and Dad, because he'll probably just start railing against the Man and his stupid Establishment, and your parents will just be like "Whoa, Daughter, no way are you dating this hooligan," and it'll just be a whole big scene, and Greg'll just be like "Whatever, toots," and ride away on his bitchin' hog and then everyone will be sorry. Except Greg, because he's never sorry. Once, when he was nine, he accidently dropped some ice cream on the floor and didn't apologize. He was just like "Whatever, toots," and rode away on his bitchin' hog.
Where to find Greg X. Graves online
Where to buy in print
Books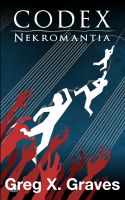 Codex Nekromantia
Necromancers have filled Constantinople with zombies! No, not that Constantinople. Constantinople, Illinois, a nucleus of urban sprawl in the middle of midwestern soybean fields. Codex Nekromantia is the chronicle of the survivors of the zombie catastrophe. Well, survivors makes them sound organized.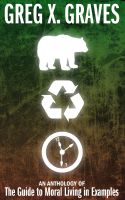 Bears, Recycling and Confusing Time Paradoxes
(3.75)
Do you want to recycle but aren't sure how? Are you concerned that a potential suitor may be a vampire? Have you attended a job interview only to be greeted by Hideous Telepathic Space-faring Lizardmen in Mansuits? The Guide to Moral Living in Examples educates on these and many more common moral conundrums, offering bite-sized advice for nearly every improbable situation.