Greta Christina
Biography
Greta Christina is one of the most widely-read and well-respected bloggers in the atheist blogosphere. She blogs at the cleverly named Greta Christina's Blog (http://freethoughtblogs.com/greta), and is a regular contributor to the online political magazine, AlterNet. She was ranked by an independent analyst as one of the Top Ten most popular atheist bloggers, and her writing has appeared in numerous magazines, newspapers, and anthologies, including Ms., Penthouse, Skeptical Inquirer, the Chicago Sun-Times, and the anthology Everything You Know About God Is Wrong. She is editor of the Best Erotic Comics anthology series and of Paying For It: A Guide by Sex Workers for Their Clients, and is author of Bending, an erotic novella in the three- novella collection Three Kinds of Asking For It. She has been writing professionally since 1989, on topics including atheism, skepticism, sexuality and sex-positivity, LGBT issues, politics, culture, and whatever crosses her mind. She is on the speakers' bureaus of the Secular Student Alliance and the Center for Inquiry. She tweets at @GretaChristina. She lives in San Francisco with her wife, Ingrid.
Where to find Greta Christina online
Books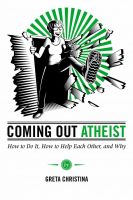 Coming Out Atheist: How to Do it, How to Help Each Other, and Why
Coming out as an atheist is a powerful, liberating act. But telling people you're an atheist can be risky. What are the best ways to do it? And how can we help each other take this step? In this compassionate, friendly, down-to-earth guide, based on hundreds of coming-out stories, popular author Greta Christina offers concrete strategies and guiding philosophies for coming out as an atheist.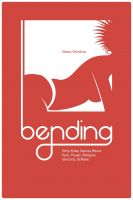 Bending: Dirty Kinky Stories About Pain, Power, Religion, Unicorns, & More
(4.50)
These are not nice stories. They're filthy. They're fearless. Some are even funny. Greta Christina's erotic stories are written to get you hard and wet -- and to change the ways you think about sex. Stuff happens here that's borderline consensual. Or not at all consensual. These are dirty, kinky stories about shame, about pain, helplessness and danger, reckless behavior and bad, bad ideas...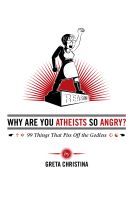 Why Are You Atheists So Angry? 99 Things That Piss Off the Godless
(4.75)
Why are atheists angry? Is it because they're selfish, joyless, lacking in meaning, and alienated from God? Or is it because they have legitimate reasons to be angry -- and are ready to do something about it? With outrage, humor, and intelligence, popular blogger Greta Christina makes a powerful case for outspoken atheist activism, and explains the empathy and justice that drive it.
Greta Christina's tag cloud