Mark Allan Gunnells
Biography
Mark Allan Gunnells has been writing since he was 10 years old. His first book, A LAYMON KIND OF NIGHT, was published by Sideshow Press in 2009. Since then he has put out three more books with Sideshow: the two-novella WHISONANT/CREATURES OF THE LIGHT combo, a short story collection entitled TALES FROM THE MIDNIGHT SHIFT VOL. I, and the Halloween themed DARK TREATS. He also has put out the novella ASYLUM with The Zombie Feed, and a digital collection entitled GHOSTS IN THE ATTIC with Bad Moon Books. He recently released his first published novel, THE QUARRY, with Evil Jester Press. He still lives in his hometown of Gaffney, SC.
Where to find Mark Allan Gunnells online
Books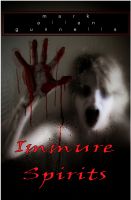 Immure Spirits
by

Mark Allan Gunnells
A collection of horror short stories by Mark Allan Gunnells, author of the novels The Quarry and Sequel.
Mark Allan Gunnells' tag cloud