Gwen Walton
Biography
Gwenneth Walton is a retired librarian living in Adelaide, South Australia.
As well as a BA in Librarianship she holds a Masters degree and a PhD in Creative Writing
from Adelaide University. Her writing interests include the 19th century colonization of South Australia by free settlers. She uses Jungian literary theory and comparative mythology to explore the meeting of European and Aboriginal cultures, but chooses to write simple, uncomplicated narrative fiction.
Books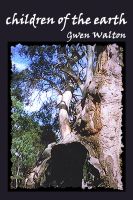 Children of The Earth
The marriage of settler couple Hestia and Adam is not happy. But one by one three intriguing strangers arrive at their lonely bush farm, and lives are changed forever. Walton's first novel is an imaginative look at 1850s South Australia, set against a background of carefully researched history. Three ancient mythologies underlie the meeting of European and Aboriginal cultures. Captivating reading.
Gwen Walton's tag cloud