David Lo
Biography
I am a Chinese American, born 1949 in Canton, China, raised in Hong Kong and educated in the USA.

My passion is to promote happiness and world peace through practices of compassion, understanding, common sense, insights, etc.

I am founder of 3 websites:

1) http://www.halffull.tv that promotes happiness, peace, healthy living, etc.

2) http://www.halfempty.tv that promotes awareness on global issues that are seldom mentioned in the media.

3) http://www.4evriders.org, a non-profit, that promotes sustainable transportation by providing daily world news on Electric Vehicles and Plug-in Hybrids.

I graduated with BA (Chemistry) from Buffalo State College, NY,
MS (Analytical Chemistry) from University of Washington, Seattle, WA and
MBA (Management and Entrepreneurship) from California State University at East Bay.
Where to find David Lo online
Books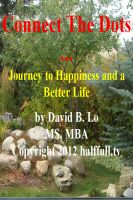 Connect The Dots ... Journey to Happiness and a Better Life
Why there is so much suffering around? Have you wondered what happiness is and how to get it? In this insightful and thoughtful e-book, I'll show you how it can be done. It took me almost 4 years of trial and error before I can say that I have done it. What I've learned during this time has been priceless!