James Yappel
Biography
Jim was born in Amish Country and raised in Ohio until moving to Silicon Valley, California. His career spans 35 years in high technology, primarily in startup technologies.
Books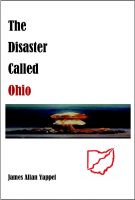 The Disaster Called Ohio
Will it be a New-Economy for Ohio or Old-Economy? Will Ohio, with its high unemployment and poverty levels, begin to prosper under the economic policy changes from Governor John Kasich?
James Yappel's tag cloud