Lennè Hunt
Biography
Lennè Hunt holds a Ph.D. in clinical psychology and spent many years as a practicing therapist and psychology professor.

In 2001, she left those careers to pursue the deeper desires of her heart: writing, ministry, and prophetic teaching about the heart of God and the truth of man's identity and destiny.

Lennè founded Deep Unto Deep Ministries and lives in Garner, North Carolina, with her cats, Pippin and Hobbes.
Where to buy in print
Books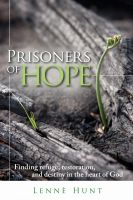 Prisoners of Hope
Prisoners of Hope is written for real people who find themselves face down in the "not-yet" of God. Standing in the difficult realities of your life—financial needs, illness, troubled relationships—you look to God. But your hope in Him has often been too small, limited by what you see in the moment, silenced by the voices of your enemies or human wisdom.