Hy Brett
Biography
Hy Brett was a librarian and feature writer at the New York Post until he left to become a fiction editor and freelance author. His articles and humor have appeared in such diverse publications as The New England Journal of Medicine and True Confessions. PROMISES TO KEEP, the critically acclaimed mystery novel he wrote with his wife,Barbara,was a Mystery Guild main selection. His quotation anthology, HOW TO SURVIVE THE NEW MILLENNIUM: Recycled Wisdom for an Age of Diminished Expectations, was hailed by critics as "an indispensable book for the Anxious Class," and as an "inspirational" aid by John A. Koskinen, Chair of President Clinton's Council on Year 2000 Conversion. THE ULTIMATE NEW YORK CITY TRIVIA is Hy's love letter to his home town. Mayor Rudolph Giuliani was so impressed with it that he had excepts featured on New York City's Centennial Web site. Hy also co-authored A BOOK OF LOVE FOR MY SON with H. Jackson Brown, who wrote the perennial bestseller LIFE'S LITTLE INSTRUCTION BOOK.
Where to find Hy Brett online
Where to buy in print
Books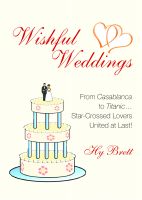 Wishful Weddings
Throw away your handkerchief! The book that brings happily-ever-after to everyone's favorite star-crossed lovers is here. In Wishful Weddings Hy Brett corrects the heartless endings of Casablanca, Titanic and fifty more classics. We can follow Rick and Ilsa, Jack and Rose, Romeo and Juliet down the aisle—and read their wedding announcements in their local paper. A triumph of love and laughter!