Lauren Lusk
Biography
Lauren Lusk is a current student at Fullsail University obtaining a Bachelors degree in Creative Writing. She has acquired a large amount of followers through her GameInformer Blog where she introduced "experimental gaming" and her Transmedia story Save Me which uses Facebook and Tumblr to create an interactive story. Right now Lauren is focusing on contributing to her collection of writing while branching out to entirely different avenues of familiarity in her writing.
Where to find Lauren Lusk online
Books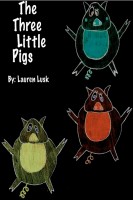 The Three Little Pigs
In The Three Little Pigs valuable lessons are learned. Knowing the Devil is bad and Jesus is good is exactly what the book is about.
Lauren Lusk's tag cloud