Ida Smithson
Biography
Ida Smithson grew up running a restaurant in San Francisco with his parents. The experience led him to earn an MBA in marketing due to the issues his parents faced.
Books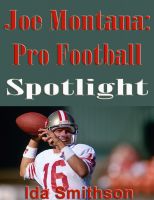 Joe Montana - Pro football Spotlight
A guide to the amazing career of Joe Montana the incredible quarterback of the San Francisco 49ers. Covers his NFL career and statistics.
Ida Smithson's tag cloud