Imogen Howson
Biography
As a child, Imogen Howson loved reading so much that she not only read in bed, at the table and in the bath, but in the shower and - not so successfully - on her bicycle.

She enjoyed books in a slightly unorthodox way, too - many of her childhood books have ragged edges where she tore paper from the margins in order to eat it.

Imogen writes romantic fantasy and science fiction for young adults and adults. She lives with her partner and their two children near Sherwood Forest in England. She still reads in most places, but she no longer eats paper.
Where to find Imogen Howson online
Books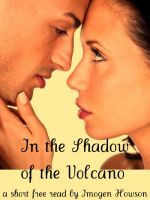 In the Shadow of the Volcano
(3.00)
In the harsh, priest-ruled land of the volcano-god, unsanctioned gifts are punished with death. Eleria knows she must give herself up. But her husband doesn't plan on letting her go. A short free read in Imogen Howson's Volcano Fire series.