Ian Oshlack
Biography
Ian Oshlack (who is also known as Deva Rajeev) worked in the advertising business for twenty years as a senior copywriter and creative director at some of Australia's leading agencies. In 1991, he embarked on a journey of self-discovery and became involved in the personal growth movement, working in the area of relationships, intimacy and sexuality. In 1996 he wrote This Thing Called Sex: How to put more love, intimacy and sensuality into your life (HarperCollins). It was widely received and translated into a number of languages including Dutch and Portuguese. Since 1995, Ian has become one of Australia's foremost facilitators of workshops around relationship issues. His other books include The Absolute Truth About Tantric Sex and Intimate Relating version of which will soon be published on Smashwords.
Where to find Ian Oshlack online
Books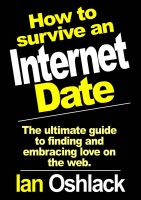 How To Survive An Internet Date
The ultimate guide to finding and embracing love on the internet. You've checked out their profile, made an email connection, now you've decided to meet face to face. It is at this point where things can go wrong. Before you go on your next internet blind date...read this book.