Jack Etheridge
Biography
Jack Etheridge is the driving force behind the success of Burritos En Fuego, a critically acclaimed Mexican-inspired quick casual restaurant founded in Baltimore, Maryland in 2001. Jack is an entrepreneur whose diverse background has allowed him to pursue many passions including theatre, business, cooking, writing, and technology among others. He has helmed successful ventures in the entertainment, audio, and restaurant industries and has consulted on dozens more. While living in California, Jack developed a deep love for Mexican and Mexican-inspired cuisines. That love turned to passion and when he moved "back east" he brought all that he learned about Mexican cuisine, mixed it with his own interpretive fusion, and poured it into the enormously successful Burritos En Fuego restaurant. This cookbook is for all those that enjoy exploring new taste sensations. Enjoy!
Books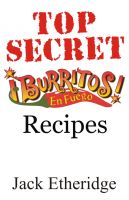 Top Secret Burritos En Fuego Recipes
Learn the recipes, tips, and techniques of Mexican-inspired cuisine. Top Secret Burritos En Fuego Recipes reveals the savory secrets of one of Baltimore's most beloved restaurants. Master the building block techniques that allow you to create the signature dishes that fueled Burritos En Fuego's success. You'll learn how to create critically acclaimed dishes that are sure to delight.