Jacki Rodikis
Biography
Born in Gillingham Kent in 1948, Jacki Rodikis was educated at Chatham Grammar School for Girls. She trained as a computer programmer, and then developed a successful business with her first husband. She has recently established Women for Change, a charity to help women who have suffered childhood sexual abuse, and is currently promoting a counselling programme for 16 to 18 year olds at her local high school. Jacki is also developing a research programme with Professor Stephen Joseph at Nottingham University to try and establish if there are triggers for disclosure of abuse. She has three children, and four grandchildren and now lives in South Warwickshire.
Where to buy in print
Books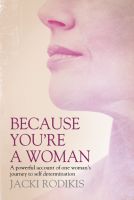 Because You're a Woman
An autobiography of a professional woman approaching sixty, reflecting on her life in the light of the traumatic and relentless sexual and emotional abuse she experienced during her childhood, at the hands of her father. Through a combination of engaging prose and compelling, graphic poetry, this book illuminates, with tears and laughter, she trials with long term effects of abuse.
Jacki Rodikis's tag cloud