Jan Van Rensburg
Biography
Jan van Rensburg is a professional engineer with 25 years behind him in the field of information technology. JVR has been involved in the design and development of information systems and computer software since before advent of the Internet and, at 53, is still at it today.

JVR is also a self-confessed health- and fitness fanatic since his early youth. But one who discovered very early on that a lean, toned and healthy appearance is not necessarily the reward for everybody who tries to live a healthy lifestyle. As someone who has had to personally struggle with a so-called slow metabolism for years, daily exercise and constant dieting was part of his life – which left him for the most part hungry and despondent. But that was also what became the driving force in his search for something which would work better and easier for ordinary people, with a more certain reward of a good body shape and lean appearance.

Over the last 30 years he has experimented with almost every conceivable nutrition- and exercise philosophy, played around with different combinations, tested new discoveries, always driven back to the drawing board to search for simpler, easier, and more effective solutions. All of it from a lazy person's perspective, who would like to achieve it with the least amount of effort and hard work. As part of this he also became the creator and developer of BodyByte Nutrition & Fitness Organizer (http://www.bodybyte.com), a software program used today by thousands of ordinary people and professionals worldwide.

The result of this quest revealed a number of secrets and surprises, and he believes with a passion that anybody – including you – can take successful control of your life and lifestyle, to reshape your body in dramatic fashion and to be more healthy.

"Being stupid or smart has less to do with your intelligence, and more with the choices you make and the actions you take."
JVR
Where to find Jan Van Rensburg online
Books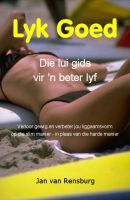 Lyk Goed - Die Lui Gids vir 'n Beter Lyf
Sukkel jy met jou gewig en liggaamsvorm? Het jy 'n stadige metabolisme, en smag jy na 'n leniger, goedgevormde lyf, sonder die eindelose ge-dieet en geworstel? As niks tot dusver vir jou kon werk het nie, hier is die goeie nuus van 'n slimmer manier. Ervaar werklike sukses, en sien hoe ook jy kan goed lyk met minder moeite en beslommernis. Ontdek die geheime wat jou lewe permanent sal verander.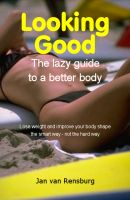 Looking Good - The Lazy Guide to a Better Body
Do you struggle with your weight and body shape? Do you have a slow metabolism, and are you yearning for a leaner, well-toned body, without the endless dieting and struggle? If all has failed so far, here is the good news of a smarter way. Experience real success, and see how you, too, can be looking good with less schlep and effort. Discover the secrets that will change your life forever.