Joseph Armstead
Biography
Joseph Armstead has been a lifelong fan of horror, science fiction and suspense fiction, in both print and cinematic form. He has always enjoyed creating interesting characters and telling stories. His education and training in the scientific disciplines led him towards developing a more physically plausible outlook on the traditional presentations of supernatural or fantastic fiction. His writing centers on the themes of personal and societal alienation, xenophobia and interspecies racism, dark conspiracies, criminal violence and renegade scientific technologies. He is also known as an essayist and a postmodernist poet and is frequently published in various literary publications. Mr. Armstead is a member of both the American Mathematical and World Futurist societies.
Where to find Joseph Armstead online
Where to buy in print
Books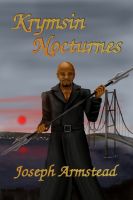 Krymsin Nocturnes
Montgomery Quinn, an ancient metahuman, wars with a power-mad cabal of vampires, mages and rogue government mercenaries in Borrego Bay. Quinn and his allies are pitted against two magic-workers seeking a source of ultimate power, which Quinn has been secretly entrusted to protect. Their deadly conflict is complicated by other players, few of whom are what they appear to be on the surface.