J.G. Contor
Biography
Born and raised in Idaho, I constantly had access to the outdoors; hiking, fishing, hunting, camping, skiing, and summer water sports. After high school, I spent two years in Korea teaching English and proselytizing for the Church of Jesus Christ of Latter-day Saints. I was exposed to an entirely different culture and learned the virtues of knowing the way others think. Shortly after returning from Korea, I enrolled in college in Hawaii on the island of O'ahu, and soon became exposed to more cultures from the pacific islands. College education focusing on English, Creative Writing, and Theatre gave me opportunities to dive into literature and enjoy the depth of writing and its potential. Hawaii became my first love and the one place where I always wanted to return to, should I find myself away. In Hawaii, I met my wife, and we were married in Kona. We lived and taught in Hawaii for two years, before moving to the mainland to escape high rent prices. We are now pursing more school and continuing to write and create new stories and worlds to put them in.
Smashwords Interview
Books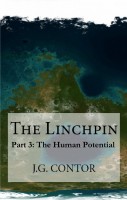 The Linchpin Part 3: The Human Potential
by

J.G. Contor
What is Harlin going to do on his own without the help of the Pactus, Raklan, or Mythrin? Harlin returns to the IMF ready and willing to guide humanity into a peaceful resolution. How does he protect the crew of the Pactus 456? If he is open with where he has been, what might they do? How can he give them the knowledge without compromising Mythrin's cover. Will they listen if he tells them?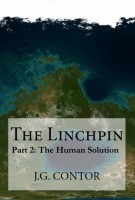 The Linchpin Part 2: The Human Solution
by

J.G. Contor
Wake up with Harlin in a new place, and without knowledge of anything that happened since P326U. Harlin's first reaction is that he has been captured and he must escape. In his attempts to flee from his unknown captives, he comes face to face with an alien species he never thought could exist: an intelligent and technologically superior collegite of many species.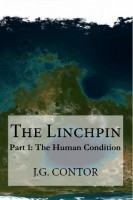 The Lincphin Part 1: The Human Condition
by

J.G. Contor
The Linchpin is the start of a story in which Tech Sergeant Harlin comes face to face with a challenge to humanity's existence and the threat of destruction. Humans are the invading force in the galaxy; they must change or destroy themselves. Harlin is a first hand witness of the ruthless nature of his species, but as a human he doesn't see or question the actions which affect worlds.
J.G. Contor's tag cloud